Today, a large majority of French people believe that teleworking has more advantages than disadvantages. In fact, 72% believe that the main advantage of teleworking is increased individual productivity. These are the findings of a recent study by SD Worx.
Why can teleworking boost productivity?
A better work-life balance
By working remotely, employees benefit from a degree of flexibility. This enables them to achieve a better work-life balance. In fact, the SD Worx study found that 80% of French employees believe that teleworking improves work-life balance. Working from home makes personal organisation easier. It allows employees to devote themselves to sporting, cultural or community activities at the end of the working day, which makes a major contribution to their well-being.
Reduced stress and absence
The elimination of commuting and the flexibility of teleworking considerably reduce stress in the workplace, which is one of the main causes of absenteeism.
By reducing stress at work, companies can limit absences in the long term, provided that they support employees in setting up teleworking (appropriate equipment, awareness of good posture and the importance of maintaining physical activity, etc.). The quality of life provided by teleworking can therefore have a major impact on employee productivity.
How can teleworking productivity be maintained?
In 2022, the report by the French National Productivity Council indicates that teleworking has led to an increase in the productivity of the employees concerned. In fact, the increase in the proportion of teleworkers, from 5% before the Covid health crisis to 25% today, would coincide with a productivity gain of between 5% and 9% within companies.
However, teleworking productivity needs to be maintained over time, thanks to effective collaboration tools and appropriate management.
Making the most of video collaboration tools
The performance of teleworking employees depends above all on the collaborative tools made available by the company. In hybrid mode, employees who are present in the office and those who work remotely must benefit from continuity in their exchanges.
These tools must facilitate communication while guaranteeing a high level of security for exchanges. Teleworking, particularly in 100% of cases, means that data is more open, sometimes on very sensitive and confidential subjects. Securing communications will not only protect the company, but also reassure employees and prevent them from limiting their interactions.
How do you boost the productivity of teleworking teams?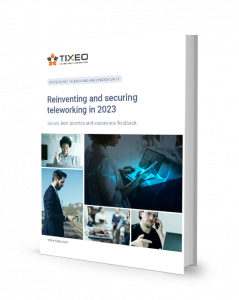 Fewer meetings and more quality exchanges thanks to the virtual open space
In full remote or 100% teleworking, the challenge is to enable employees to stay in touch on a daily basis, without wasting too much time in pointless meetings. 100% teleworkers need to enjoy autonomy without feeling isolated, in order to increase productivity while maintaining team cohesion.
To meet this need, Tixeo offers the TixeoFusion mode in its secure videoconferencing tool.
This feature allows teleworkers to meet in a virtual open space. Represented in video bubbles, they can chat easily, simply by clicking on the bubble of one or more colleagues. When the discussion starts, the bubbles come together to form a coloured group. The people involved then interact in the same way as in a traditional video conference, without disturbing the other teleworkers.
The benefits of virtual open-space :
Encourage informal exchanges when teleworking (and avoid unnecessary meetings)
Avoid feelings of isolation by having a constant view of your colleagues
Facilitate the sharing of information across all participants, thanks to the secure messaging functionality included in the virtual open space
Putting the right management in place
At the same time, managers need to be trained to support their teleworking teams. This is fundamental to maintaining productivity and team cohesion.
So it's important to establish a climate of trust when working together. Teleworking employees enjoy a high degree of autonomy. To reinforce their commitment and involvement, the manager must encourage regular feedback. In addition, exchanges must be fluid and carried out as much as possible by videoconference with the camera activated, to improve the quality of exchanges. This helps to detect any uneasiness or difficulties at an early stage.
Setting rituals
These regular feedbacks can be programmed in the same way as daily meetings. These daily meetings, which are very popular with IT teams, enable them to take stock of current projects. This type of ritual helps to improve the productivity of teleworking staff: it reminds them of the objectives to be achieved and motivates the workforce, while at the same time rewarding the progress made.
Finally, when teleworking, managers must ensure that their teams take breaks during the day and disconnect after their working day. Hyperconnection has an impact on the teleworker's health and is detrimental to their quality of life and productivity. Regular exchanges with the manager can help identify this type of problem.
Read also: