Remote working is now a popular option for many employees and companies. But at a time when cyberthreats are on the increase, how can teleworking be made truly effective and its security strengthened within organisations?
Quiet quitting, digital nomads… A new vision of work
In France, as in Europe, the relationship with work has changed considerably. For many employees today, the priority is to hold a position in a company that is in line with their values, where their well-being will really be taken into account. This is what emerges from the latest barometer from the Actineo observatory. We learn that 45% of those questioned think that their employer is not concerned about their well-being at work, whereas this should be a priority for 84%.
The "quiet quitting" movement and the growing number of digital nomads demonstrate a clear desire for greater freedom and quality of life.
The benefits of teleworking  
Teleworking seems to be an appropriate and effective response to these new expectations, offering a better balance between professional and personal life. What's more, teleworking is even said to increase employee productivity, according to a report by the French National Productivity Council. A better quality of life? Not just that, since the success of teleworking also depends on the support and appropriate management of teams.
How can teleworking management be rethought?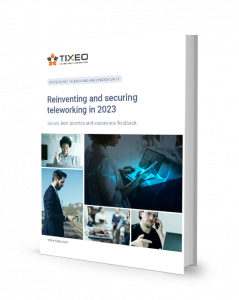 Combining collaborative performance and data security
In 2023, the introduction of teleworking will require careful thought to be given to data and communications security. When employees work remotely, the risks of cyber-security are greater and the consequences more costly.
In the IBM report, we learn that in 2022, the average cost of a data breach was 4.34 million dollars in France. When teleworking is a factor in the attack, $1 million is added to the bill. The consequences are therefore primarily financial, but they also damage the reputation of the targeted organisation for its lack of reliability.
Protecting the teleworking environment, installing a VPN, MFA (multi-factor authentication) or subscribing to a sovereign cloud service are all choices that need to be made to ensure that employees have simple, secure access to company resources.
Quels sont les risques de sécurité informatique principaux en télétravail ?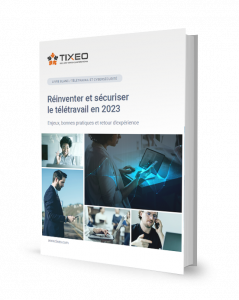 The importance of IT hygiene training for teleworkers
Raising awareness of IT security among teleworking teams is fundamental to preventing cybersecurity risks. In fact, the human factor is always the primary cause, despite the massive increase in the security of information systems. Employees need to be made aware of the risks, but also of the best practices to be implemented to protect their equipment, particularly when they are on the move.
In addition, the deployment and use of a high-performance Secure by Design video collaboration tool remains essential for team collaboration, especially when working 100% from home. It is important to train teleworkers and raise their awareness of this tool, particularly to reduce the risks of shadow IT, which is becoming increasingly common.
The case of Tixeo, 100% augmented teleworking
For the past 8 years, Tixeo has been moving towards 100% 'augmented teleworking'. Thanks to the TixeoFusion mode of its secure videoconferencing solution, Tixeo teams work together in a virtual open space on a daily basis. The result: simple, reliable and user-friendly communication that erases the distance between employees and strengthens collaboration.
How has Tixeo's 100% augmented teleworking model become sustainable?